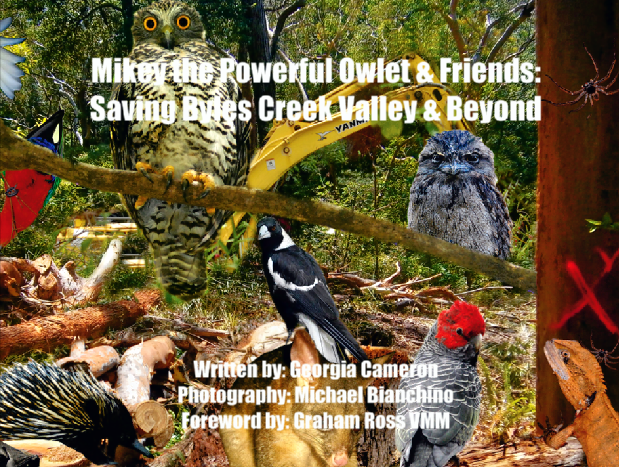 NEW BOOK - Mikey the Powerful Owlet & Friends: Saving Byles Creek Valley & Beyond - Book (price includes domestic express postage & handling)
Regular price $40.00 Sale
CAN YOU BELIEVE, THAT BY POPULAR DEMAND, I'VE RELEASED MY SECOND BOOK?
It's another limited-edition hardcopy photoboook with 117 high-gloss pages and over 130 full-colour images – WOO HOO!
"Mikey the Powerful Owlet & Friends: Saving Byles Creek Valley & Beyond" is again written by my alter-ego Georgia Cameron, photographed by the local paparazzo Michael Bianchino and published by community group the Byles Creek Valley Union Inc. It includes a foreword by celebrity radio and TV gardening legend Mr Graham Ross VMM and afterword by Dr Mehreen Faruqi MLC, who've supported the campaign to save my home in Byles Creek Valley.
The first print run of only 500 books will be was retailed exclusively (in-store) at the award-winning Children's Bookshop at 6 Hannah Street Beecroft  (with thanks to Paul Macdonald and his wonderful staff) for $30 from late November 2017 and online at www.mikeythepowerfulowlet.com, but you'll need to be quick as they'll fly off the shelves!
And even better, $5 from each first limited-edition copy of Mikey's 2nd biography will be donated to Sydney Wildlife – what a hoot!
Catch you soon…
xoxo Mikey
PS – Recommended for mature audiences 10 years+
Hardcover
Landscape 20cm x 15cm
117 high-gloss pages
130 plus full-colour images