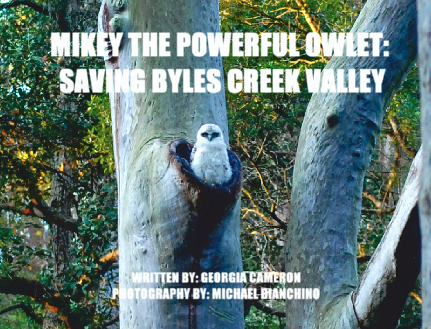 SOLD OUT FIRST BOOK - Mikey the Powerful Owlet: Saving Byles Creek Valley - Book (price includes domestic express postage & handling)
Regular price $35.00 Sale
DID YOU KNOW THAT I'VE BEEN WORKING ON A VERY SPECIAL PROJECT – BEECROFT & CHELTENHAM'S BEST KEPT SECRET?
It's about 20cm x 15cm x 1.5cm and weighs 500gm. No, I'm too young to produce a Powerful Owl egg yet – it's a limited-edition hardcopy photobook with over 100 high-gloss pages and full-colour images – WOO HOO!
"Mikey the Powerful Owlet: Saving Byles Creek Valley" is written by my alter-ego Georgia Cameron, photographed by the local paparazzo Michael Bianchino and published by community group Byles Creek Valley Union Inc. It includes a foreword by celebrity radio and TV gardening legend Mr Graham Ross VMM and afterword by Mr David Shoebridge MLC, who've been supporting the campaign to save my home in Byles Creek Valley.
The first print run of only 400 books (200 + 200 reprint) was retailed exclusively (instore) at the award-winning Children's Bookshop at 6 Hannah Street Beecroft  (with thanks to Paul Macdonald and his wonderful staff) from December 2016. Anyway, you'll need to be quick as it literally flew off the book shelves for Christmas, and now less than 100 books are available instore and online.
And even better, $5 from each first limited-edition copy of Mikey's biography has been donated to BirdLife Australia's Powerful Owl Project – what a hoot!
Catch you soon…
xoxo Mikey
PS – Recommended for mature audiences 10 years+
Hardcover
Landscape 20cm x 15cm
100+ high-gloss pages
full colour images